I've been in affiliate marketing for many years now and recently started a review blog for new affiliate marketers trying to find a place to start while dodging scams and fake products at every turn. There are so many horrible products with fake reviews that it's become almost impossible to find an honest review, particularly if you're new to all of this and don't know how to lookout for all of the landmines.
Anyways, while doing these honest reviews I've come into contact with dozens of people that are looking for a place to start, and that's why I created this eBook - "No More Bullsh*t: An Honest Approach to Affiliate Marketing".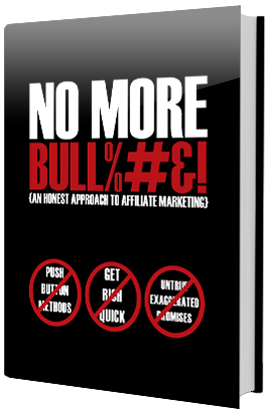 It's meant to help people that are fairly new to this industry and are looking for a direction to success. If you've been doing this for a while, you may not find it to be too helpful. But if you are new or fairly new to affiliate marketing, I am very confident that this free guide will serve to help you.
It's not your traditional eBook with very little content and a bunch of affiliate links. There are a couple of links in there, but I spent a lot of time on this to make sure it was as beneficial to new affiliate marketers as I could possibly make it.
I hope it helps you on your affiliate marketing journey! Please feel free to contact me through my blog if you have any questions at all.
Download:
http://adf.ly/9WGHV